ONE Unveils FLX - A Flavorful Reefer Service Connecting Latin America's Delights to Florida's Shores
Singapore, 28th July 2023 - Ocean Network Express Pte. Ltd. (ONE) is excited to announce FLX, a new service connecting the West Coast of South America to the East Coast of North America (Florida). The service is set to launch in September 2023. With an emphasis on innovative and efficient transportation solutions, FLX caters to customers looking for reliable South American reefer container shipments.
Flavorful South American Delights Reach New Shores
Many Latin American fruits, vegetables and seafood, such as mangoes, asparagus, shrimp, have been gaining popularity worldwide. As a result, Latin American reefer container transportation has seen a remarkable growth, nearly doubling over the past few years.
Strengthening Our Commitment to South America and Reefer Services
With our reefer services, we have established ourselves as a significant player on the Latin America-Asia route, for which we have earned praise from our customers over the years. To further improve the quality of our transportation services, we are redoubling our efforts by investing in state-of-the-art equipment, including Control Atmosphere (CA) containers and telematics devices.
Unveiling FLX: Expanding New Horizons for Shipments
FLX provides exclusive service, connecting the South America West Coast to the North America East Coast (Florida) with our own dedicated fleet of vessels. The service aims to offer fresh options to our valued customers, including those previously engaged in Asia-bound shipments, while expanding shipping possibilities and streamlining supply chain processes. FLX will launch in September 2023 in preparation for the harvest and shipping season.
FLX service map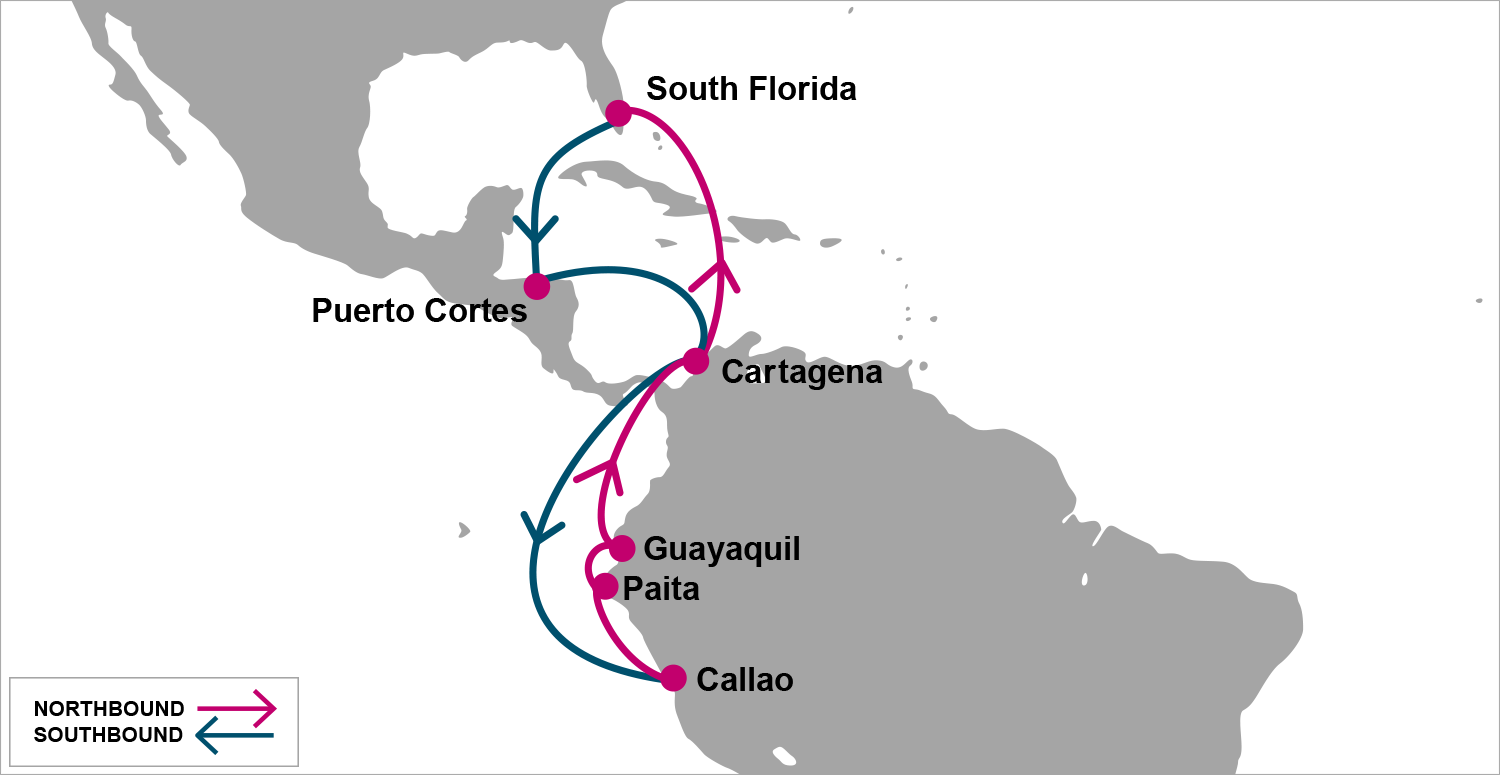 Service Details
The FLX service will deploy four vessels in order to ensure schedule stability. This service will connect Callao and Paita (Peru), and Guayaquil (Ecuador) to South Florida with one of the fastest transit times on the market. With excellent options for the transportation of refrigerated cargo, the direct routes include Callao-South Florida in 11 days, Paita-South Florida in 9 days, and Guayaquil-South Florida in 8 days.
Furthermore, FLX provides a direct connection from South Florida to Honduras, in addition to destinations in Colombia, Ecuador and Peru. With hub ports like Cartagena (Colombia) and Callao (Peru), ONE services can be seamlessly connected with other services to/from the United States, East Coast South America, Europe, Caribbean and Asia.
Chilean exporters can also conveniently connect their cargoes via Callao, adding to the route's accessibility. In summary, the FLX route offers multiple connection options: 
Callao - Paita - Guayaquil - Cartagena – South Florida - Puerto Cortés - Cartagena – Callao.
Yu Kurimoto, Managing Director of ONE said, "We aim to share South America's distinctive flavors with people across the globe. With our FLX and LUX services, we are excited to open new doors for businesses and individuals, enabling them to enjoy the authentic tastes of this vibrant region."
We appreciate your interest in FLX and look forward to a successful launch that will forge new connections and bring South America's vibrant tastes to discerning palates worldwide.

For more information, please contact your sales account representative or Customer Service desk.

About Ocean Network Express (ONE)
Ocean Network Express (ONE) was incepted on July 7, 2017 following the liner service integrations of Kawasaki Kisen Kaisha ("K" LINE), Mitsui O.S.K. Lines (MOL) and Nippon Yusen Kaisha (NYK). The new entity functions from its global headquarter in Singapore, supported by regional headquarters in Hong Kong, Singapore, the United Kingdom, the United States and Brazil. Operating more than 200 vessels, it offers an expeditious and a reliable international network of over 170 services to 120 countries and beyond. ONE is the world's seventh largest container carrier with a fleet size of approximately 1.52 million TEU. ONE is a member of THE Alliance (THEA), a global ocean carrier consortium.
For more information, please visit www.one-line.com